Title: A Binding Contract
Author: eldee
Fandom: BBC Merlin
Pairing: Arthur/Merlin
Other Characters/Pairs: Freya, Morgana, Leon, Aredian, Will, Helen, Uther/Nimueh, Jonas/Catrina
Rating: Explicit (NC17)
Words: ~ 99 K
Warnings: sex trade work; authority figures (control over magic); some violence; mentions of minor character death; attempted suicide
Disclaimer: The characters depicted herein belong to Shine and BBC. I make no profit from this endeavour.
Based on this prompt: [originally posted at
kinkme_merlin here] Arthur/Merlin, modern AU. Merlin's one of those kids who's 'slipped through the nets' - had a tough life, been homeless, etc. and is always being manipulated by people who don't care about his interests. Fantastically rich and powerful!Uther buys Merlin from whoever it is who happens to be manipulating him this time, and takes him home as a present for spoilt!Arthur, specifically to pleasure him sexually. Arthur's attitudes and actions are entirely up to the author.

Author's Notes: My cheerleaders: So many thanks to
fuzzytomato02, for being there for me from the beginning -- I could not have done this without you, my friend;
misswinterhill for always knowing what to say to calm my nerves and help me move on, and to
hermette for throwing sparkling encouragement all over me while I got through the end of this. ♥ Betas
mama_fortuna ,
ems (also Brit-picked!), and
agenttrojie are all superstars for going through this whole beastly thing. Thank you so much. ♥ Finally, to all the lovely mousies at
kinkme_merlin who said such kind things about while I worked my long way through this story.
Special Thanks to ABC artist:
gwyntastic -- for your generosity in your fic-graphics offer for
help_japan. Thank you for choosing ABC to work on, it's beyond anything I could've ever imagined. I'll never be able to thank you enough for your excitement, and your brilliant ideas. Your art is truly amazing, as are you, and I had such a fabulous time time collaborating with you. ♥

Summary: In a society where people with magic are considered to be dangerous, are labelled as freaks, and have their powers cut off from them, Merlin does whatever he can to survive the hard life he's faced with. When he's in desperate need of money, Merlin's landlord Aredian arranges and offers a magically binding contract in which Merlin is to become a 'companion' to Uther Pendragon's son, Arthur. And when Merlin feels compelled to accept it, he never would have imagined that one man could change his life so completely.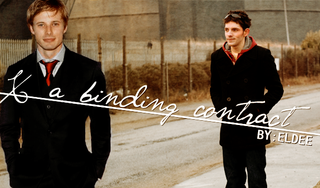 banner by
gwyntastic
POSTED ON
:
Archive Of Our Own

GRAPHIC ART BY
[WARNING: major fic spoilers]
:
||
gwyntastic || art post ||
EBOOKS
:
|| pdf || mobi || epub ||